The ACM Digital Library is Open URL compliant.
Open URL
Open URL is a standardized method of presenting URLs of materials published on publication platforms such as the ACM Digital Library. Using Open URL allows indexing databases or link resolvers to create better search results across multiple databases belonging to a library's electronic resources.
SFX
SFX is an Open URL Link Resolver which is made available by Exlibrishttp://www.exlibrisgroup.com/category/SFXOverview. SFX allows users to search for a citation across their multiple Open URL compliant online resources provided by their library. The user can then find the same source materials available across various platforms, providers and media types.
The ACM Digital Library is SFX enabled and Open URL compliant. In order for libraries to begin to use this service please go to the Consort Admin Tool page at http://campus.acm.org/public/consortium/consort_main.cfm or the Corporate Admin Tool page at http://campus.acm.org/public/corporation/corporate_main.cfm and upload your URL Resolver Base Address and Logo. Alternative, you may send these to dl-info@acm.org.
ACM is a volunteer-led and member-driven organization. Everything ACM accomplishes is through the efforts of people like you. A wide range of activities keep ACM moving, including organizing conferences, editing journals, reviewing papers and participating on boards and committees, to name just a few. Find out all the ways that you can volunteer with ACM.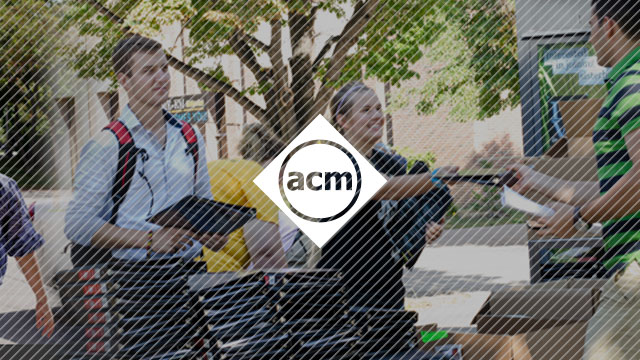 Why I Belong to ACM
Hear from Bryan Cantrill, vice president of engineering at Joyent, Ben Fried chief information officer at Google, and Theo Schlossnagle, OmniTI founder on why they are members of ACM.
Publish Your Work
ACM's prestigious conferences and journals are seeking top-quality papers in all areas of computing and IT. It is now easier than ever to find the most appropriate venue for your research and publish with ACM.