The Digital Library : DL Pricing (Academic)
All Digital Library orders with subscription start date of January 1, 2019 or after will receive 2019 pricing.
2019 Academic List Pricing is valid for all institutions ordering directly through ACM.
Volume-based discounts are available for institutions ordering directly through academic library consortium. Please see below for more details.
Academic consortium pricing is based on several factors, including:
Annual licenses to the ACM Digital Library include access to all contents of the ACM Digital Library and Guide to Computing Literature Index.
The ACM DL Full-Text Database consists of:
54 Total Journals, of which 44 are ACM owned and published titles and an additional 12 are published by affiliated organizations and hosted by ACM in the DL by special arrangement
8 Niche Technology Magazines containing peer reviewed articles, practitioner-oriented articles, commentary, news, blog entries, and multimedia content (including ACM's flagship magazine the Communications of the ACM)
37 Special Interest Group Newsletters
275+ New Conference Proceedings Volumes per year with a total of over 2,500 Proceedings Volumes in the ACM DL archive
Over 2,237,215 records in the Guide to Computing Literature Index. For each record, a complete citation page exists with links to the full-text of that record hosted by third parties. For the 407,367+ records contained in the ACM DL published by ACM, the full-text is immediately available on the DL platform and included in the annual license.
2019 Academic List Pricing
| Tiers | 2018 New Subscriber List Prices (US$) | % Increase From 2018 Prices for Existing Subscribers | 2019 New Subscriber List Prices (US$) |
| --- | --- | --- | --- |
| 2 Year Colleges | $2,000 | 0% | $2,000 |
| Tier 1 | $14,527 | 2% | $14,818 |
| Tier 2 | $19,015 | 4% | $19,776 |
| Tier 3 | $24,532 | 6% | $26,004 |
Download the 2019 Academic Pricing Guide Here
Discounts are based on ACM consortium discount policy, but typically range between 40%-50%.
As academic libraries feel increasing pressure to justify their expenditures on periodicals and scholarly databases, it is becoming progressively important for publishers to evaluate the benefit their users are getting out of these resources, and to make adjustments when necessary. In the case of the ACM Digital Library, our pricing continues to be among the lowest of all scholarly publishers, regardless of which metric is used for evaluation, however in some instances that pricing needs to be more consistent with market pricing to enable ACM to continue investing in the publications themselves.
While the importance of the usage is becoming an increasingly important metric for determining the value of the ACM Digital Library at an institutional level, we continue to believe strongly that usage is not the only metric which should be used to determine value. Simply having access to the number of high quality publications that exist in the ACM Digital Library and Guide to Computing Literature Index has an inherent value on its own that we believe far exceeds the cost charged to all subscribing institutions.
Updated July 23, 2018
Why I Belong to ACM
Hear from Bryan Cantrill, vice president of engineering at Joyent, Ben Fried chief information officer at Google, and Theo Schlossnagle, OmniTI founder on why they are members of ACM.
For Practitioners
ACM Queue's "Research for Practice" consistently serves up expert-curated guides to the best of computing research, and relates these breakthroughs to the challenges that software engineers face every day. This installment of RfP is by Anna Wiedemann, Nicole Forsgren, Manuel Wiesche, Heiko Gewald, and Helmut Krcmar. Titled "The DevOps Phenomenon," this RfP gives an overview of stories from across the industry about software organizations overcoming the early hurdles of adopting DevOps practices, and coming out on the other side with tighter integration between their software and operations teams, faster delivery times for new software features, and achieving a higher level of stability.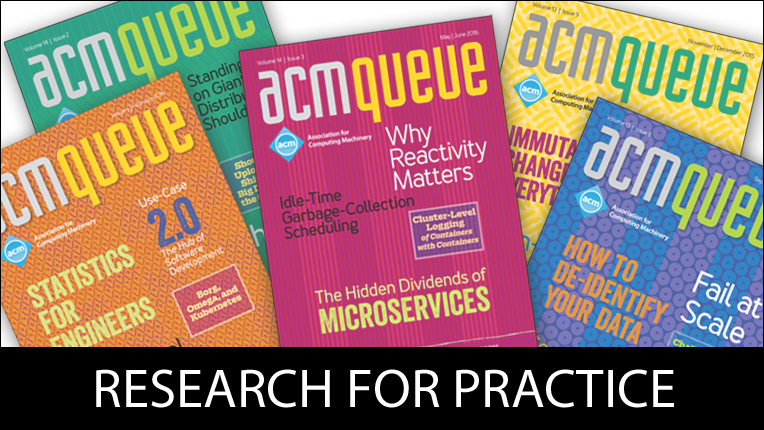 Written by leading domain experts for software engineers, ACM Case Studies provide an in-depth look at how software teams overcome specific challenges by implementing new technologies, adopting new practices, or a combination of both. Often through first-hand accounts, these pieces explore what the challenges were, the tools and techniques that were used to combat them, and the solution that was achieved.