Search the Guide to Computing Literature vs. Searching the ACM Digital Library
The ACM Digital Library is ACM's online platform which contains the full text of every article every published by ACM. The ACM Digital Library is fully integrated with the ACM Guide to Computing Literature, an extensive collection of bibliographic citations from major publishers in computing.
Because of the integration of the ACM Digital Library with the Guide to Computing Literature users of the ACM Digital Library will often find citations in their search results which belong to other publishers and are not included with their subscription to the ACM Digital Library.
To ensure you are searching only the full text of the ACM Digital Library, start by running a search at https://dl.acm.org. On the top left of your search results will indicate if your search results are within "Publications of the ACM and Affiliated Organizations" or within the "The ACM Guide to Computing Literature".
You can toggle between searching the Guide and the ACM Digital Library by clicking on or Expand your search to The ACM Guide to Computing Literature or Limit your search to Publications from ACM and Affiliated Organizationsrespectively.
Also, subscribers of the ACM Digital Library can quickly identify which articles they have full-text access to as indicated by the ACM diamond on the left or each article and the availability of full-text button on the search results or citation page.
Over the coming months, additional work will be done to further highlight the users' ability to search full-text or bibliographic records.
Faceted Search
The ACM Digital Library is fully searchable across all of ACM's publications along with the entire contents of the ACM Guide to Computing Literature. Search results contain "guided navigation" to enable knowledge discovery and topic refinement. Search results can be limited by fields such as publication date, content formats, and publication names.
Advanced Search
Advanced search is also available for those users that prefer the more traditional query formulation.
Bibliometrics
An evolving set of statistics gathered through the ACM Digital Library at various levels of aggregation. The core building block is a set of statistics present on each article citation page containing accumulated statistics on publications, citations, and download statistics.
For Practitioners
ACM Queue's "Research for Practice" is your number one resource for keeping up with emerging developments in the world of theory and applying them to the challenges you face on a daily basis. RfP consistently serves up expert-curated guides to the best of CS research, and relates these breakthroughs to the challenges that software engineers face every day. In this installment of RfP is by Nitesh Mor, a PhD candidate at UC Berkeley working on the next generation of globally distributed computer systems with a special focus on data security and privacy. Titled "Edge Computing," this RfP gives an overview of some of the most exciting work being done in the area of computing infrastructures and applications. It provides an academic view of edge computing through samples of existing research whose applications will be highly relevant in the coming years.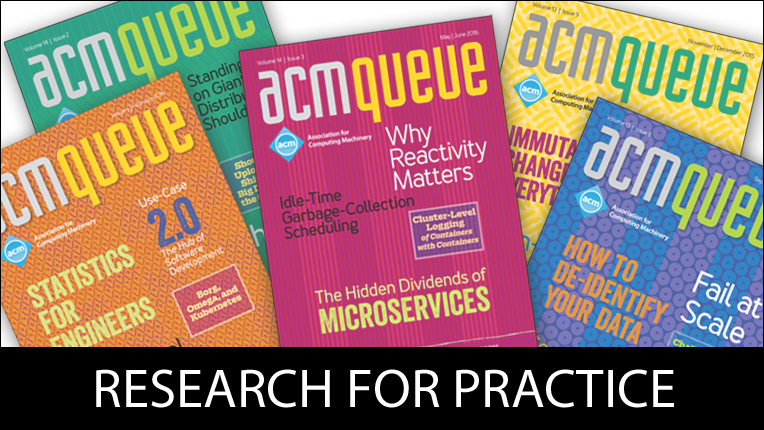 Written by leading domain experts for software engineers, ACM Case Studies provide an in-depth look at how software teams overcome specific challenges by implementing new technologies, adopting new practices, or a combination of both. Often through first-hand accounts, these pieces explore what the challenges were, the tools and techniques that were used to combat them, and the solution that was achieved.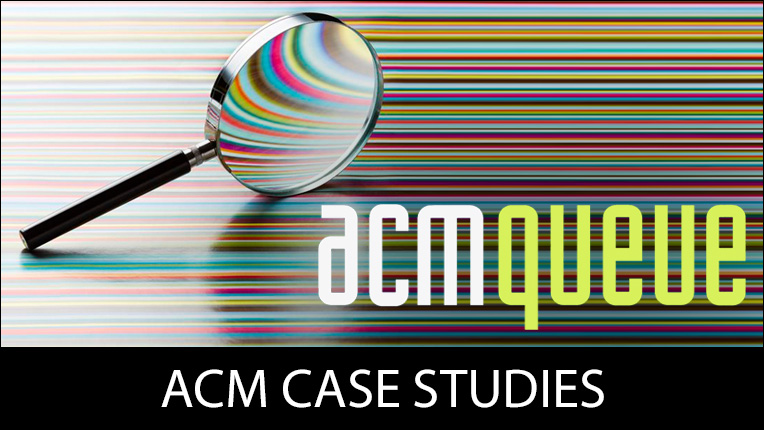 Why I Belong to ACM
Hear from Bryan Cantrill, vice president of engineering at Joyent, Ben Fried chief information officer at Google, and Theo Schlossnagle, OmniTI founder on why they are members of ACM.