ACM Open: A Rare and Beautiful Thing
'A rare and beautiful thing'
An interview with Carnegie Mellon University's Keith Webster on ACM Open, OA, and transformative agreements
ACM Open expresses the Association's commitment to open access publication and its transition to full open access by 2025. To date, over 600 institutions globally have signed ACM Open agreements. As one of the first institutions to adopt the ACM Open model, CMU has demonstrated its support for the principles and ethics of sustainable open access publication. We recently spoke to Keith Webster, Dean of Libraries and Director of Emerging & Integrative Media Initiatives at CMU, about the University's view of open access and faculty feedback about the ACM agreement.

Q: What is the university's broad view of Open Access?

KW: I think the University would broadly characterize open access and openness as ensuring that the work done at Carnegie Mellon—and this is work that we believe will make the world a better place—is freely accessible to those who may benefit from it. These might be researchers in collaborating institutions who may not have the benefit of a full range of subscriptions right throsugh to aid workers and community members, in any part of the world, who might wish to gain access to the work we produce today. We have talked about open access from the perspective of journal articles and conference proceedings. But our view is that openness touches three broader categories of scholarly output: open publications, open data, and open software. CMU has put in place structures to ensure that all those areas that we see as integrated components of the Carnegie Mellon research record are openly accessible.

Q: Relative to open access scholarship, what are CMU's current structures and long-term priorities?

KW: I think ultimately this is about sustainability. I know that some people think that open access is almost about putting publishers out of business, but that is not our view. We value the partnerships we have with societies and with publishers; we want to work collaboratively to ensure that while we maximize the openness of our research output, we do so in a way that respects and reflects the contributions of the many players in the scholarly publishing ecosystem.

Q: How does the University work across campus to promote open access?

KW: We have had a number of great conversations about open access. We've collaborated closely with our Faculty Senate, which is the governing body for the university's faculty. In my almost 10 years at the University, we've brought together the CMU campus community to mark open access with thought leaders, political leaders, and publishers all coming to the CMU campus to raise awareness and stimulate engagement in understanding why we believe open access is critical to the future of the research enterprise.

Q: One final question. What, in terms of qualitative feedback, have you had from faculty?

KW: I think it is this anecdotal recognition that we have done this. In the first couple of agreements, which were with Elsevier and with ACM, we had a lot of coverage. With Elsevier, we had global news coverage because we were the first individual university to secure an agreement with that publisher and our media relations team here ensured that everyone knew about it. ACM followed quickly behind that initial agreement. ACM is, on many data points, our biggest publisher as an institution. Therefore, the agreement with ACM was one that many asked about when we announced the Elsevier agreement.

So, with ACM—a lot of awareness, a lot of appreciation, and no criticism—which on a university campus is a rare and beautiful thing! Now that we are four or five years into a number of these agreements, we need to perhaps look more systematically at author behavior. Clearly the pandemic has caused some disruption and interruption, but we know enough now to control things like conferences being cancelled and laboratories being closed for a period. We can arrive at a more nuanced picture.
Written by leading domain experts for software engineers, ACM Case Studies provide an in-depth look at how software teams overcome specific challenges by implementing new technologies, adopting new practices, or a combination of both. Often through first-hand accounts, these pieces explore what the challenges were, the tools and techniques that were used to combat them, and the solution that was achieved.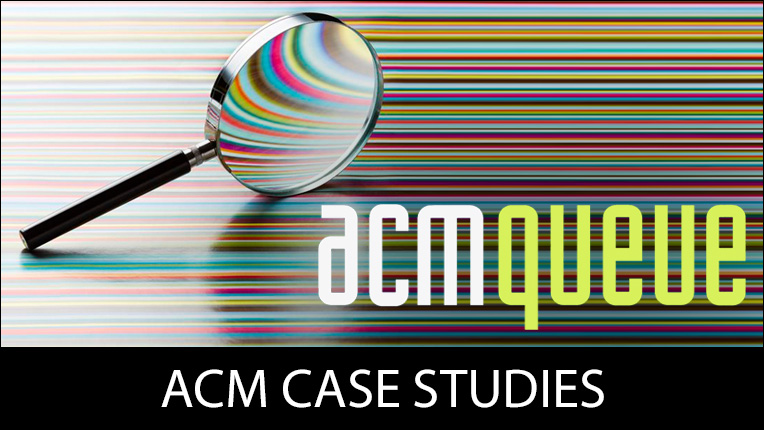 Publish Your Work
ACM's prestigious conferences and journals seek top-quality papers in all areas of computing and IT. It is now easier than ever to find the most appropriate venue for your research and publish with ACM.