The Digital Library : 2011 LAB Meeting

ACM organized the second meeting of its Library Advisory Board for 2011.
Members of ACM's Library Advisory Board from Europe and Asia recently met in Harrogate, UK for the 2011 ACM International Library Advisory Board meeting.
The goal of the meeting was to establish a forum to discuss issues impacting the international library community in general and to provide ACM with guidance and feedback on a wide range of topics, including open access, pricing, publications, platform features & functionality, and licensing.
The meeting was tremendously successful and continued the longstanding tradition of close communication and cooperation between the library community and ACM.
The following is a list of librarians from the Asia and Europe participated in the International Library Advisory meeting, which was held at Old Swan Hotel in Harrogate UK on April 3rd, 2011:
Ms. Christine Hasemann - Technische Informationsbibliothek und Universitaetsbibliothek Hannover, Germany
Ms. Catherine Kwok - Hong Kong University of Science & Technology (HKUST), Hong Kong
Dr. Daulat Jotwani - Indian Institute of Technology Bombay, India
Dr. V.D. Shrivastava - Indian Institute of Technology Kanpur, India
Ms Irina Razumova - NEICON, Russia
Dr. J.K. Vijayakumar - King Abdullah University of Science & Technology, Saudi Arabia
Mrs. Lee Cheng Ean - National University of Singapore, Singapore
Mr. George Meerburg - University of Amsterdam, The Netherlands
Ms Zofia Brinkman Dzwig - TU Delft Library, The Netherlands
Ms. Burcu Keten - Middle East Technical University Library, Turkey
Mr. Dominic Benson - Brunel University, United Kingdom
Ms. Sally Rumsey - Oxford University Library, United Kingdom
For Practitioners
ACM Queue's "Research for Practice" serves up expert-curated guides to the best of computing research, and relates these breakthroughs to the challenges that software engineers face every day. This installment, "The DevOps Phenomenon" by Anna Wiedemann, Nicole Forsgren, Manuel Wiesche, Heiko Gewald and Helmut Krcmar, gives an overview of stories from across the industry about software organizations overcoming early hurdles of adopting DevOps practices, and coming out on the other side with tighter integration between software and operations teams, faster delivery times for new software features, and achieving higher levels of stability.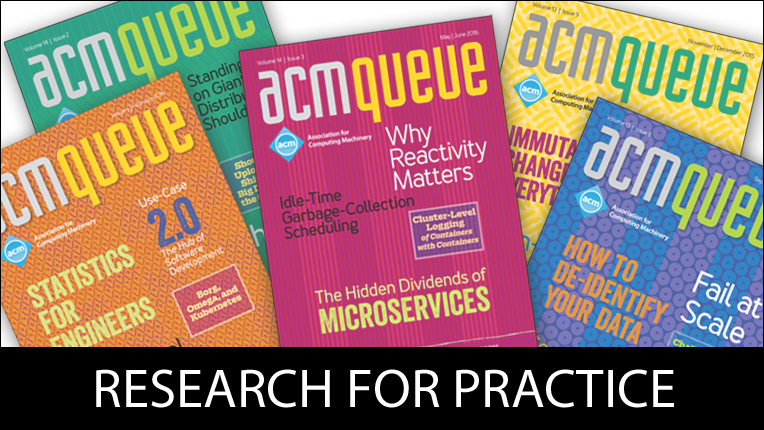 Why I Belong to ACM
Hear from Bryan Cantrill, vice president of engineering at Joyent, Ben Fried chief information officer at Google, and Theo Schlossnagle, OmniTI founder on why they are members of ACM.