The 2015 meeting of the Library Advisory Board was attended by the North America members of the Library Advisory Board and ACM staff and took place over a two day period in New York City.
The meeting began with an introduction to the ACM by Scott Delman, ACM Director of Publications, and its mission to advance the Computing field by serving the research community, students, educators, and practitioners.
Kathy Brost - Mentor Graphics Corporation
Dianne Dietrich - Cornell University
Carol Hutchins - New York University
Victoria Reich - Stanford University / LOCKSS
Isabella Garcia - Qualcomm Library & Information Services
Rafael Lopes - Tecnológico de Monterrey (ITMS), Mexico
Sonja Gardner - National Science Foundation (NSF)
Fang Wan - University of Rochester
Scott Delman - ACM Director of Group Publishing
Bernard Rous - ACM Director of Publications
Joshua Horowitz - ACM Digital Library Sales Manager
Nolen Harris - ACM Digital Library Account Manager
Asad Ali - ACM Database Developer
Meeting Agenda
Thursday, July 23, 2015
| | |
| --- | --- |
| 9:00 AM | Opening Statement & Roundtable Introductions |
| 9:30 AM | Information Literacy as a Student Learning Outcome in the Era of Google (Rafael) |
| 10:00 AM | Assessing Value of Information Products & Services for Corporations (Kathy) |
| 10:45 AM | ACM Digital Library Platform Developments (Asad) |
| 11:15 AM | Access Methodologies and Using ACM Content Outside the DL Environment (Isabelle) |
| 12:00 PM | Challenges in Promoting ACM Content for Corporations (Isabelle) |
| 1:30 PM | Data Management (Diane) |
| 2:00 PM | Data & Software in Publication (Bernie) |
| 2:45 PM | 3D Technology in Engineering Study & Research (Fang) |
| 3:15 PM | Digital Preservation in the Age of Green, Gold, & Hybrid OA (Vicky) |
| 4:00 PM | Government Public Access Mandates (Sonja) |
| 4:30 PM | Open Access Tools (Sonja) |
| 5:00 PM | CHORUS Update (Scott) |
| | |
| --- | --- |
| 9:00 AM | Using Metrics to Evaluate Impact in Scholarly Literature (Carol) |
| 9:45 AM | ACM Pricing & Policy Update (Nolen & Josh) |
| 10:30 AM | Subscription Agency Risks for Libraries & Publishers (Nolen) |
| 11:15 AM | Introduction to ACM Books (Josh) |
| 11:45 AM | New Information Products & Services Brainstorming (Scott) |
| 12:30 PM | Wrap-Up |
Written by leading domain experts for software engineers, ACM Case Studies provide an in-depth look at how software teams overcome specific challenges by implementing new technologies, adopting new practices, or a combination of both. Often through first-hand accounts, these pieces explore what the challenges were, the tools and techniques that were used to combat them, and the solution that was achieved.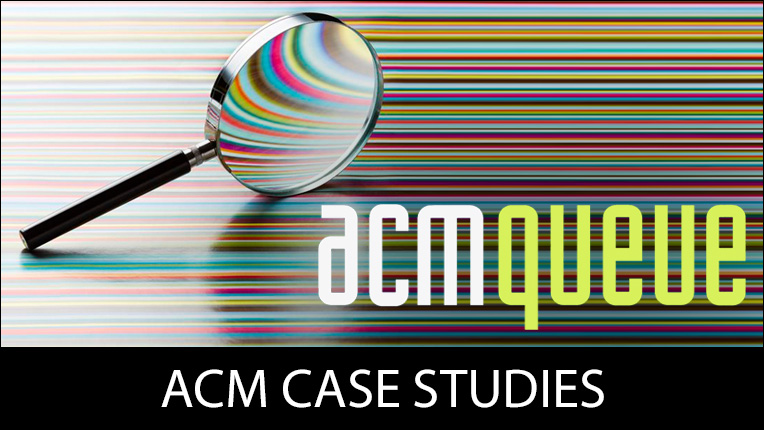 For Practitioners
ACM Queue's "Research for Practice" serves up expert-curated guides to the best of computing research, and relates these breakthroughs to the challenges that software engineers face every day. This installment, "The DevOps Phenomenon" by Anna Wiedemann, Nicole Forsgren, Manuel Wiesche, Heiko Gewald and Helmut Krcmar, gives an overview of stories from across the industry about software organizations overcoming early hurdles of adopting DevOps practices, and coming out on the other side with tighter integration between software and operations teams, faster delivery times for new software features, and achieving higher levels of stability.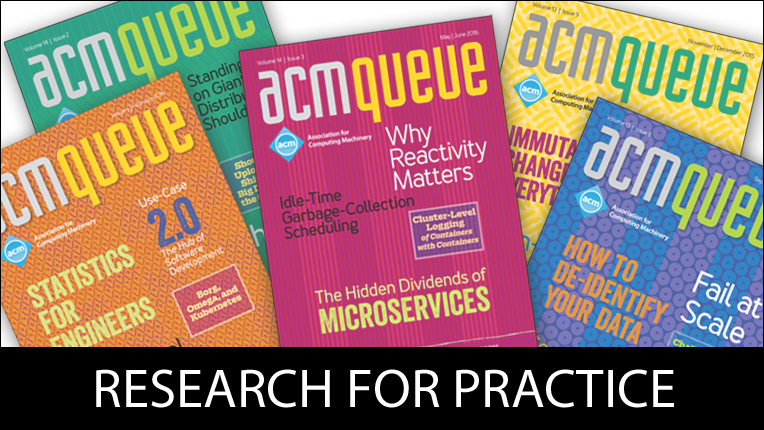 Why I Belong to ACM
Hear from Bryan Cantrill, vice president of engineering at Joyent, Ben Fried chief information officer at Google, and Theo Schlossnagle, OmniTI founder on why they are members of ACM.