ACM Computing Reviews is an ACM monthly journal produced in collaboration with Thinkcloud.
The ACM Computing Reviews database is the largest and most comprehensive database of reviews covering the computing literature, providing practitioners, researchers, educators, and students with an unparalleled resource that provides a unique roadmap to the vast ocean of scholarly and practical information in one of the fastest moving fields of knowledge today.
Every year, over 8,000 books, 2,500 dissertations, 20,000 journal articles from over 750 journal titles and over 30,000 conference papers from over 500 conferences are published in the field of computing. This does not include the thousands of master's theses, technical reports, technical manuals, working papers, blog entries, presentations, or other materials published each year. Filtering this vast quantity of information is difficult and there are very few high quality resources available to help individuals to do this well. ACM Computing Reviews is such a resource.
The ACM Computing Reviews database is an essential companion product to the ACM Digital Library. Both databases are closely related and have been integrated to connect reviews to full text wherever possible.
The ACM Computing Reviews contains the following:
The most comprehensive coverage of the computing literature
Expert reviews from over 1,000 subject matter
Approximately 30,000 reviews covering books, journal articles, and conference proceedings from different publishers and hundreds of thousands of publications
Commentary from authors and reviewers of reviewed materials
Powerful search tools
Searchable archives dating back to 1985
New reviews published on site daily
Alerting profiles
RSS feeds of partial reviews
Fully indexed and integrated with the ACM Digital Library full text database and Guide to Computing Literature bibliographic database
Affordable pricing
Simplified IP authentication for Institutional subscribers
Edited by a panel of leading experts
To gain a better understanding of the ACM Computing Reviews functionality, click on the PDF Tip Sheet for any section below. For an overall instructional quide, read the QUICK START Tip sheet or please go directly to the ACM Computing Reviews site at:
http://computingreviews.com/help/collateral.cfm
Why I Belong to ACM
Hear from Bryan Cantrill, vice president of engineering at Joyent, Ben Fried chief information officer at Google, and Theo Schlossnagle, OmniTI founder on why they are members of ACM.
For Practitioners
ACM Queue's "Research for Practice" is your number one resource for keeping up with emerging developments in the world of theory and applying them to the challenges you face on a daily basis. RfP consistently serves up expert-curated guides to the best of CS research, and relates these breakthroughs to the challenges that software engineers face every day. In this installment of RfP is by Nitesh Mor, a PhD candidate at UC Berkeley working on the next generation of globally distributed computer systems with a special focus on data security and privacy. Titled "Edge Computing," this RfP gives an overview of some of the most exciting work being done in the area of computing infrastructures and applications. It provides an academic view of edge computing through samples of existing research whose applications will be highly relevant in the coming years.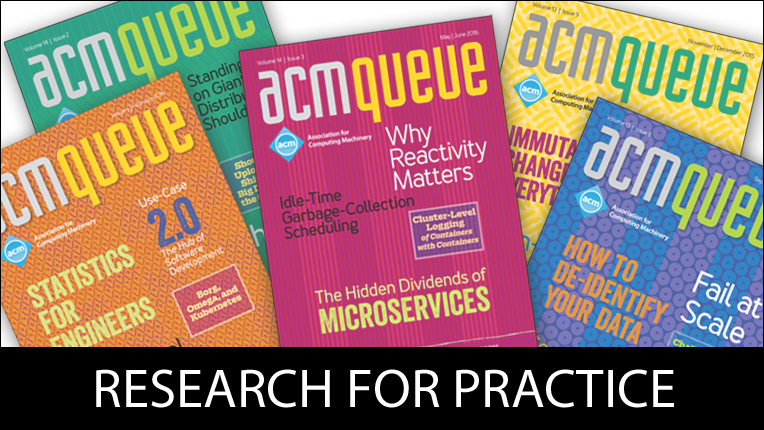 Written by leading domain experts for software engineers, ACM Case Studies provide an in-depth look at how software teams overcome specific challenges by implementing new technologies, adopting new practices, or a combination of both. Often through first-hand accounts, these pieces explore what the challenges were, the tools and techniques that were used to combat them, and the solution that was achieved.