The Digital Library : Academic Computing Reviews Pricing
Download the 2014 Computing Reviews Pricing Guide Here
Download the 2013 Computing Reviews Pricing Guide Here
An annual subscription to Computing Reviews for academic institutions allows for access to the database with no limits to the concurrent users or downloads.
For academic institutions in the United States ACM uses Carnegie Classification based tiers.
2014 Academic Computing Reviews Pricing - United States is as follows:
Tier
2014 Tier List Price
2014 Consortium
Discount Pricing (50%)
1
$ 460
$ 230
2
$ 2,590
$ 1,295
3
$ 2,878
$ 1,439
4
$ 3,030
$ 1,515
5
$ 3,190
$ 1,595
International Institutions
ACM has one price. 2014 Academic Computing Reviews Pricing - International is as follows:
2014 List Price
2014 Discounted
Pricing (50%)
$ 2,878
$ 1,439
Please contact ACM at dl-info@acm.org or your consortia administrator for more information on consortia discounts.
Why I Belong to ACM
Hear from Bryan Cantrill, vice president of engineering at Joyent, Ben Fried chief information officer at Google, and Theo Schlossnagle, OmniTI founder on why they are members of ACM.
For Practitioners
ACM Queue's "Research for Practice" is your number one resource for keeping up with emerging developments in the world of theory and applying them to the challenges you face on a daily basis. In this installment, Dan Crankshaw and Joey Gonzalez provide an overview of machine learning server systems. What happens when we wish to actually deploy a machine learning model to production, and how do we serve predictions with high accuracy and high computational efficiency? Dan and Joey's curated research selection presents cutting-edge techniques spanning database-level integration, video processing, and prediction middleware. Given the explosion of interest in machine learning and its increasing impact on seemingly every application vertical, it's possible that systems such as these will become as commonplace as relational databases are today.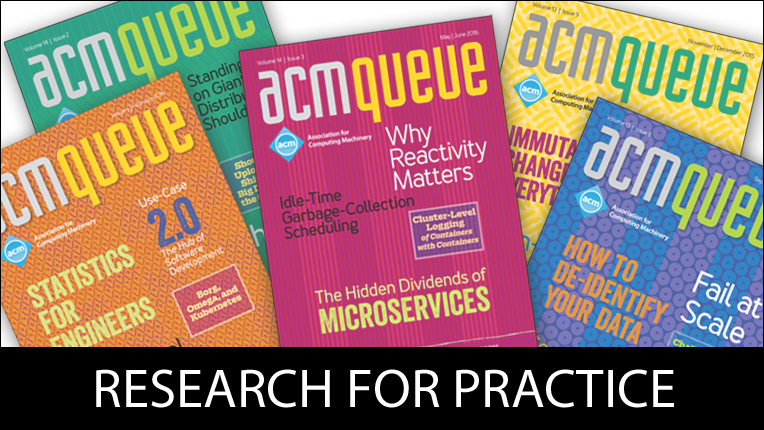 Publish Your Work
ACM's prestigious conferences and journals are seeking top-quality papers in all areas of computing and IT. It is now easier than ever to find the most appropriate venue for your research and publish with ACM.